Yangsum Heritage Farm




Drive through groves of bamboo to a beautiful rustic heritage farmhouse which was built in 1833 and remodeled in 1966. The homestay is run by Thendup Tashi and his wife, Pema, who manage the 44-acre mountain farm which consists of open mixed forest of pine, Himalayan alder, schima, chestnut, magnolia, rhododendrons, cherry and others.
Hearty meals
At Yangsum, you'll enjoy freshly -prepared, hearty meals to suit non-vegetarians or vegetarians. Wherever possible, fresh organic farm produce is used and you can sample Sikkim cheese, nettle soup and a wide range of other tasty, local dishes. Dine in Thendup and Pema's cosy living room or choose to be served on your verandah or in a gazebo overlooking the fields and hills.
Organic farm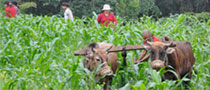 While relaxing on your holiday it is easy to forget that Yangsum is a working farm. Cultivated agriculture yields maize,paddy, millet, potatoes, ginger, turmeric,and sweet potatoes. In addition to these, seasonal vegetables such as cauliflower, cabbage, tomatoes and peas are also grown. The farm is fully organic.
Special Activities
Hiking & Trekking
Whether it's a leisurely stroll through the garden, a three-hour hike to visit local villages and
[read more]
Cookery Lesson
The farmhouse serves various Sikkimese cuisines which are prepared from
[read more]